A report for measurement series in Ghana.
Participants: The Leibniz Institute for Agricultural Engineering and Bioeconomy (ATB), DexAfrica (DEX), University for Development Studies (UDS), University of Cape Coast (UCC).
Authors: Marius Hobart and Eugene Anin-Adjei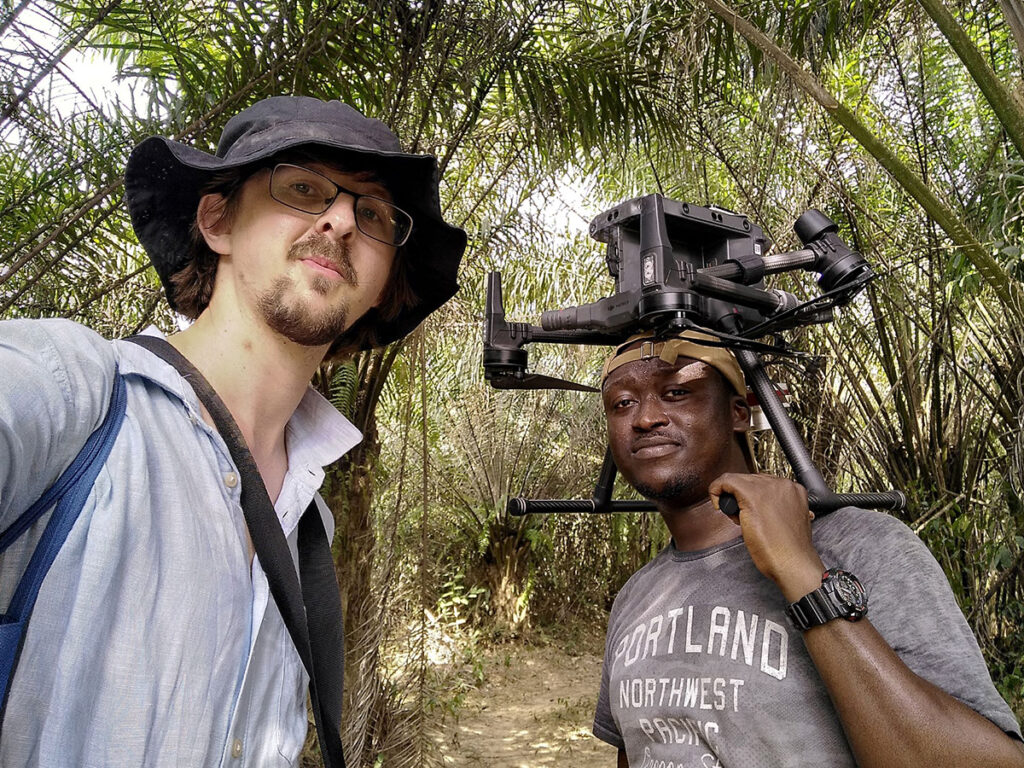 In March 2022, a scientific exchange between Ghanaian and German partners took place in the project Sustainable intensification for Northern and Western Africa (SustInAfrica). This was linked to a measurement campaign in Tamale and Cape Coast that was carried out within 2 weeks.
In measurements, a drone platform (Matrice 300 RTK) with a multispatial/thermal sensor solution (Micasense Altum) and a plant canopy analyzer (LiCor 2200c) were used.
Mango plantations in Tamale
The first location was a test site of the University for Development Studies (UDS) near Kumbungu, Tamale. Here the terrain was flat and barren in the current dry season. In total, 23.5 ha of mango plantation were flown over, and reference data on the leaf area of the trees was added.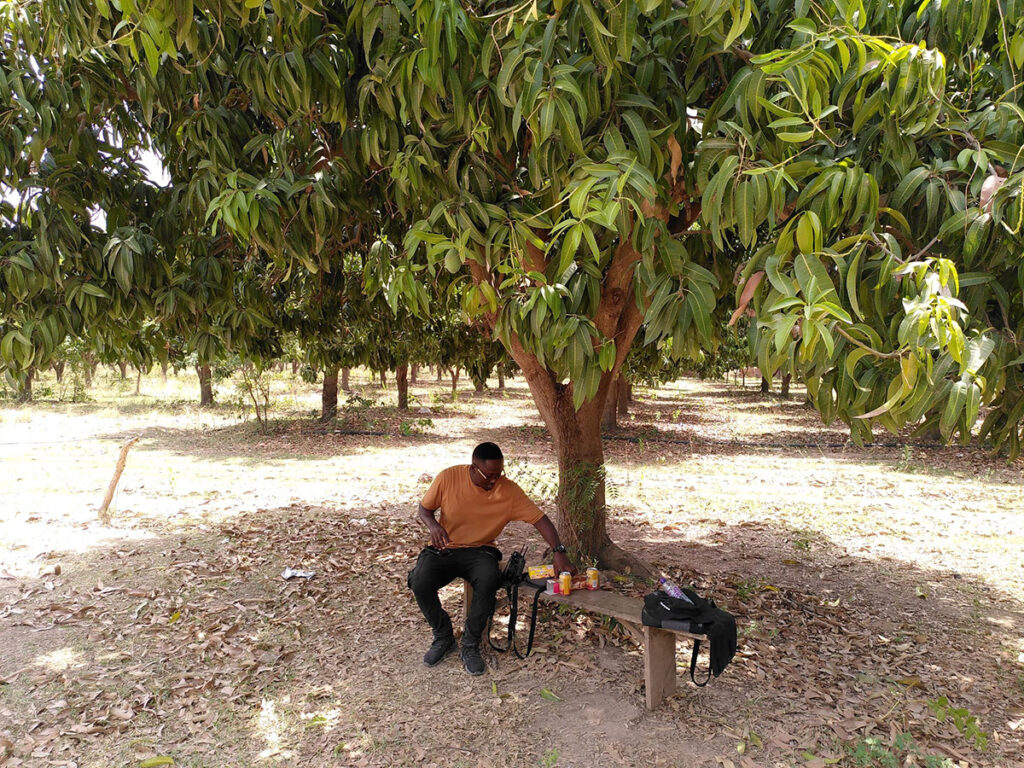 At 36-40°C temperature in the sun, man and material sometimes reach their limits. While we pilots were able to escape into the shade, the black drone, which heated up strongly on its shadowless overflights, had to abort the started flight campaign several times in order to cool the batteries back to the working range.
In combination with taking the reference leaf area index values we had a little training in collecting these data. In doing so we used the shade as often as we could.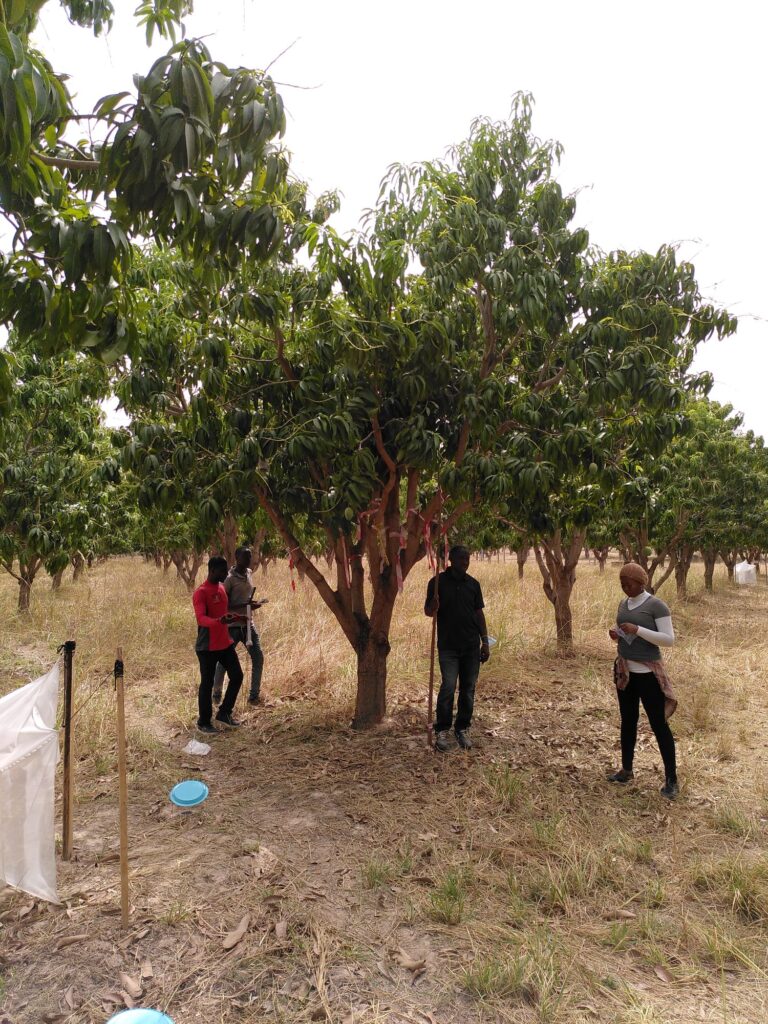 Pineapple fields in Cape Coast
From Tamale, we headed for the south of the country. On the coast of Ghana, around Cape Coast, the relief is much stronger and the prevailing wind speeds are significantly higher due to the proximity to the sea. Here, it was not the high temperatures that made the measurements difficult, but the wind speed and the challenge of getting the necessary measuring equipment up the hills to the measuring fields.
Thus, together with the University of Cape Coast, we took measurements of diverse pineapple fields of similar size and age that are either conventionally or organically farmed. Further we had a little training as well.
In the evening, we then checked the quality of the recorded data and managed the available storage space. That can be quite pleasant in such a beautiful place.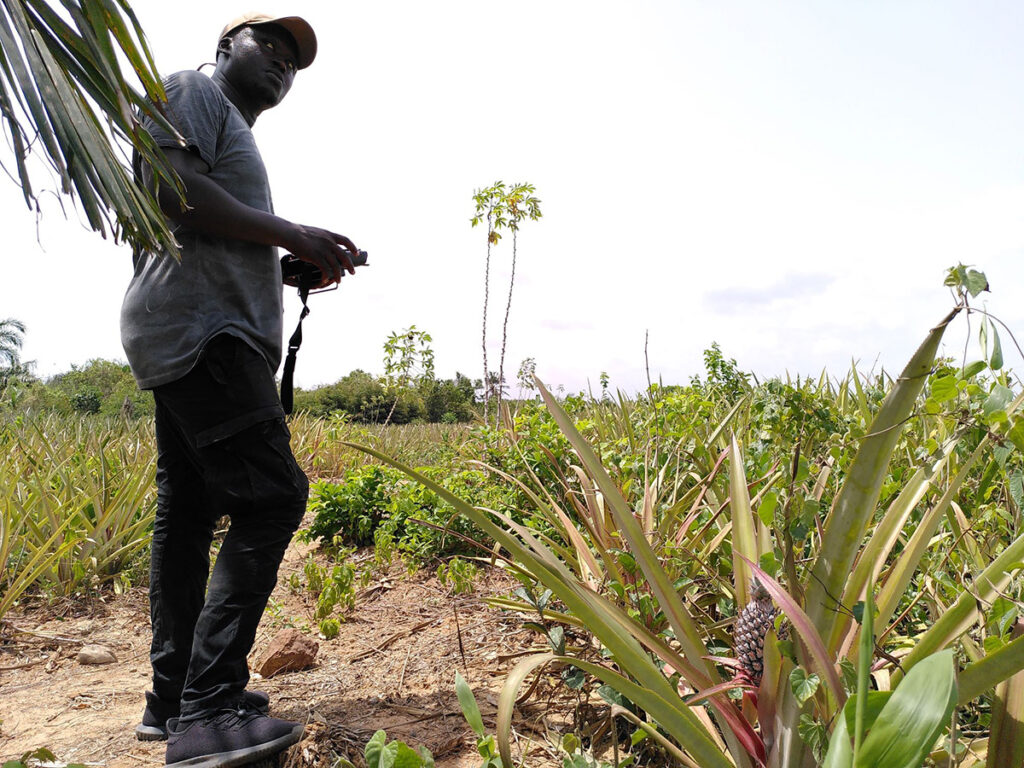 With the collected data, aerial images of different spectral ranges and indices can be created afterwards. These are used for model generation with the help of the reference data collected on the ground. The measurement campaign will be repeated in the coming months to cover different growth stages of the plants.